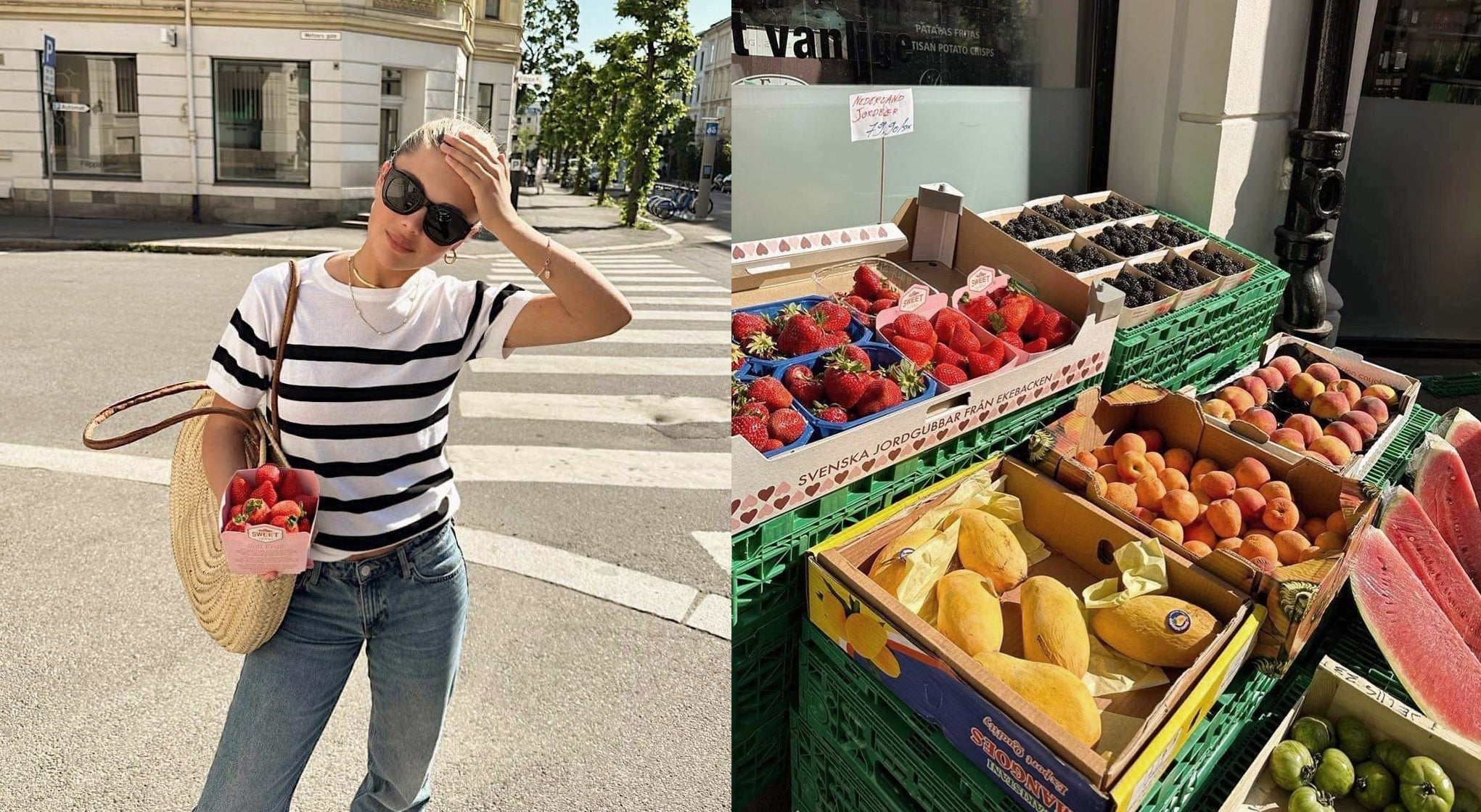 My Breezy Summer with Ella Grane
As summer approaches its peak, bringing with it a desire for breezy fashion that effortlessly combines style and comfort, Ella Grane shares her insights on how merino wool keeps her cool, comfortable, and oh-so-chic. Get ready to be inspired as we explore Ella's ultimate summer style guide, where the versatility of merino wool takes center stage.
Having been born and raised in Norway, her summers have mostly been spent at the family cabin, located outside Bergen on the Norwegian west coast, which means that when she packs for her cabin vacation, she needs to make sure she is covering all her bases, from warm summer days, to cooler evenings, and the odd day of rain and colder temperatures.
As the daughter of one of the co-founders of We Norwegians, Tove Grane, she has grown up surrounded by merino wool, and it comes as no surprise that she shares her mom's passion for this wonderful fabric. Ella swears by merino wool as the ultimate solution for staying breezy and comfortable on scorching summer days, while also providing a cozy embrace when the evening chill sets in. Its versatility makes it the perfect choice for all-day comfort, no matter the temperature.
– What I love so much about merino wool is that it doesn't itch and feels great on the body. It's lightweight and airy, so it keeps you comfortable all day, whatever the weather. You don't have to wash it as often as other textiles, such as cotton and polyester, so it's perfect for when you're on vacation, Ella explains. 
Ella especially loves how versatile merino wool can be. She enjoys playing with base layers, as they can be dressed up or down depending on the occasion. She's all about experimenting with different styles and mixing classic pieces with modern elements to create stylish looks. 


Here are Ella's top 5 way to style merino wool this summer

1. Lightweight Layers for Effortless Chic
A lightweight merino layer, such as a merino tee, is a staple in Ella's wardrobe. It is the perfect layering piece and she admits that she wears a merino tee almost every single day, paired with jeans, linen pants or a pair of shorts for an effortless, yet chic look. It can be worn anywhere: on a city break, at the cozy family cabin or dressed up for a summery night on the town. 
If you haven't experienced the bliss of wearing a merino tee during the summer, now is the perfect time to give it a try. It keeps you comfortable and breezy on hot days, but keeps you warm in the evenings when the temperature drops. 
– Once you try merino wool t-shirts, there's no going back. Even in summer, it is way more comfortable to wear than a normal cotton t-shirt, Ella tells us. 
2. Versatile Silhouettes for Day-to-Night 
Ella has mastered the art of creating versatile outfits that seamlessly transition from day to night. When the sun sets, she effortlessly swaps her jeans or shorts for a chic ankle-length skirt, paired with simple ballet flats for a touch of elegance. She likes to finish off the look by putting her hair up in a sleek bun and adding a few dainty pieces of jewelry.  
– The basic merino tees, such as Tind or Hjellestad, are super easy to style with almost anything. The quality is so amazing! They keep you cool on those hot summer days and instantly elevate the whole outfit, giving it that classy vibe. I just love styling a merino tee with an unexpected item, such as a long skirt. It's the perfect combo of casual vibes and classy style.


3. Sporty Chic 
For Ella's active days, finding the ideal harmony between comfort and style is key. She opts for simplicity and practicality, relying on the versatility of merino wool that effortlessly adapts to any weather conditions.
One of Ella's beloved pieces is the Lindesnes Zip-Up, which she often pairs with shorts and comfy shoes or sandals. This combination is perfect for her outdoor adventures, whether it's kayaking, hiking, or simply unwinding on the family boat during the summer.
Another favorite in Ella's wardrobe is the Ona Vest, which proves to be a versatile choice for boat trips, kayaking excursions, and hiking expeditions. However, its appeal extends beyond outdoor activities as it effortlessly complements any outfit, making it equally suitable for throwing on when heading to the gym.

4. Back to Basics 
The classic combination of jeans and a t-shirt is a fail-safe choice that never disappoints, making it a go-to look for Ella. As we have established, she loves a merino tee, and paired with jeans it is a perfect casual look for Norwegian summer days.
– It gives you a great canvas to play with – dress it up or down by changing your accessories and shoes. It is a winner that never goes out of fashion, Ella adds. 
For an added touch of style, Ella often wears a sweater draped over her shoulders. The Marstein Sweater adds a modern touch to the classic jeans and t-shirt combination and adds that extra flair to the outfit.
5. La Marinière
The tried-and-true classic striped top is one of Ell's favorite pieces this summer. It just never goes out of fashion and is super versatile and easy to style. In addition to styling it with the classic blue jeans, Ella loves to pair the Hjellestad tops with cargo pants or a pair of flared pants to give it a more contemporary look that feels young and trendy. 
The stripes give that desired French-inspired, effortless look, striking the perfect balance between casual and put-together. It keeps her cool and comfortable all day and has become her go-to piece, making summer styling a breeze.
– To me, it's all about versatility, good quality, and that effortlessly cool style. Merino wool adapts to any occasion flawlessly, keeping me cool and making my outfits feel chic and effortless. Trust me, it's a game-changer!
Why Wear Merino in the Summer?
When it comes to clothing, there's a remarkable natural fiber that stands out for its versatility, exceptional quality, and eco-friendly nature - Merino wool. Often associated with staying warm dur...
Read more